Video by William Hollerung
Play is a serious matter for children and adults alike. International treaties on children's rights recognize play as a fundamental activity critical to the social development, learning experiences, and well-being of children. Play is found in every culture, yet it varies in time and place. These cultural differences are visible in the games played, the toys made, bought, played with, and treasured by children and adults. Through a wide range of toys, from the 1800s to the present, Child's Play reflects on how play is expressed through objects and suggests how our attitudes towards play have changed. You are invited to think about how toys shape our children's play, and what these toys say about us and our cultural values.
Many toys in this exhibit are likely to evoke feelings of nostalgia and offer some relief from the stress adults may feel coping with a global pandemic. Remembering the pleasures associated with play and engaging in play should, perhaps, become part of our self-care routines. Play can bring us together, help us forget for a minute our daily reality, and foster our creativity.
Skip down to the to the toy gallery.

Play can take many forms and address different needs. Playing with balls or jumping rope involves the whole body. This type of activity helps develop muscles and coordination, while burning energy. Playing with construction blocks hones spatial and fine motor skills. Through make-believe play using dolls and other props, children make sense of the world around them and express their feelings. Even rough and tumble play, which is often misinterpreted as fighting, is crucial in teaching children social cues and norms.
How is play different from work? What are the crucial elements of play? When the same outward movements can be play or work, where does the distinction between work and play lie? Play tends to be self-initiated and self-directed. Undertaken for its own sake, it is process-oriented, not product-oriented. Young children pretending to collect magical plants are playing, not weeding. Yet if they are forced to play with younger siblings, that is not play; it is a chore.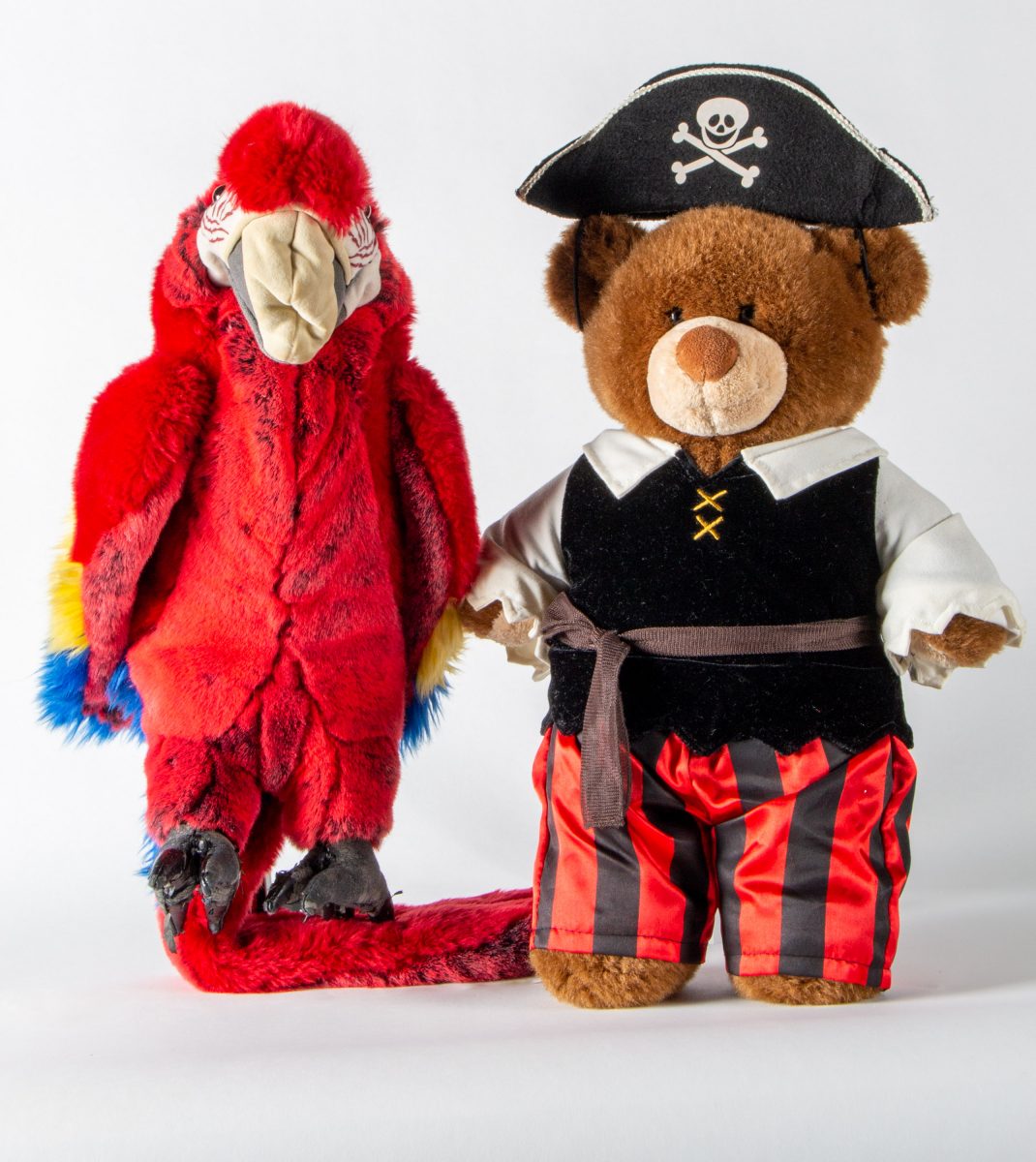 Stuffed animals and soft dolls
Children in the western world are often brought up sleeping in their own beds from an early age with stuffed animals and soft dolls. Many children form intense bonds with these toys, conferring on them special properties. In 2006, Bristol University's Bruce Hood and Paul Bloom from Yale University created an experimental setting, where children were asked to choose between the used stuffed animal/doll they brought with them or a new identical copy of the toy. Most of the children chose the familiar one over the new one. Did you have a special object that you could not sleep without?
Lincoln Logs® Frontier Junction Set
K'NEX Industries Inc.
circa 2010
Wood, Plastic
On loan from Morgan Cicimurri
Designed by John Lloyd Wright, Lincoln Logs were first created in 1916. Inspired by the interlocking timbers in the Tokyo Imperial Hotel, Wright marketed the logs as creative building toys able to withstand rough play. The original toy set was packaged with instructions for how to build Lincoln's childhood cabin, as well as Uncle Tom's cabin, a reference to the title of Harriet Beecher Stowe's classic 19th-century novel depicting the harsh conditions enslaved African Americans like Uncle Tom experienced. Wright eventually sold his company to Playskool, but the patent currently resides with Hasbro and Milton Bradley. Over 100 million units have been sold globally.

Play-Doh
Hasbro
2020
Flour, Water, Salt, Preservatives, Fragrance, Colors
On loan from Trevor and J.R. Morrison
Play-Doh, a modeling compound with a slow drying time, is one of most appreciated open-ended toys. Play-Doh's lack of rules allows it to be shaped into any form and become a prop for make-believe play without a clear end to play. It stimulates children's imaginations, while developing fine motor skills and hand muscles. Before Play-Doh hit the stores in the 1950s as a toy, it was used as a wallpaper cleaner.
Marionettes
Lanzafame Sebastiano
2018
Wood, Metal, Cloth, String, Feathers
On loan from Giordano Angeletti
The marionettes shown here are known as "pupi"– the Italian colloquial term for children – and trace their origins back to 13th-century Sicily. They have been consistently used through the ages to perform the stories of Frankish romantic poems such as The Song of Roland from the 11th century and The Frenzy of Orlando from 1532. They are embedded in one of Sicily's most revered cultural traditions. The blue caped pupo represents Angelica, a heroine in many poems. The black caped one represents a Saracen, an Arab or Muslim, from the time of the Crusades.
Rod Puppet
Maker Unknown
circa 1945
Wood, Fabric, Metal, Yarn, Paint
Gift of Sol and Bessie Kohn
4.88
This traditional Indonesian puppet from the 1940s is known as a Wayang Golek and is used to perform plays generally derived from the great Indian epic poems, Rāmāyana or Mahābhārata, which tell of moral law and mythic history. The doll's form resulted from the Mohammedan practice of forbidding any representation of the human form in art.  The figure is distorted so that not even its shadow has human characteristics. 
Girls and boys show preferences for different types of play from an early age. Scientists have demonstrated slight developmental differences underlying boys' preference for playing with objects and girls' preference for make-believe play. These tendencies have a biological component but are often culturally reinforced through environment and toy options available. Some parents have a hard time buying toys that are marketed as feminine for their sons. Gender stereotypes embraced by adults are quickly assimilated by children and reflected in their toy preferences. Toy manufacturers tend to produce more toys marketed for boys than for girls because girls are more likely to play with "boy's" toys than the opposite.
While there may be preferences for certain types of toys, children will explore all types of play if given the opportunity. In an interesting experiment, social scientists Caryl Rivers and Rosalind Barnett modified traditionally male and female toys so that they appeared to be for the opposite sex. A gun and holster were bejeweled. A tea set was modified to be GI Joe-themed. When the children were presented with these altered toys, boys played just as long with the tea set as they had previously played with the unmodified gun and holster. The same happened for girls.
Toys have been criticized by many for teaching bad lessons to children. Pacifists have long claimed that toy guns lay the groundwork for children to accept war and violence as normal. Conservative religious groups have criticized the Harry Potter line of toys and games for promoting witchcraft and humanism. Barbies were first criticized in the 1950s for making girls less interested in child rearing and more interested in fashion and careers. Later Barbies were accused of over sexualizing girls.
As seen with the criticism of Barbies, toys do not have intrinsic cultural values. Toymakers may have specific values or ideas when producing, marketing, and promoting a toy but a child's interpretation of it depends on their cultural background. Children use many branded toys to play out what they have seen on tv and in movies without further developing their own stories. This type of play can be enriched and guided by adults with open-ended questions. Imitative play can become more creative. Children will often bring new life to the same toys and develop stories beyond what they have seen. Teachers have used these techniques to redirect violent or disruptive play towards more desirable classroom activities.
Spool Racers
Don Roper
circa 2000
Wood, Rubber Bands, Paper
Gift of Donald Roper
2002.11.148.02 – .03
Common objects such as spools of thread, dowels, and rubber bands can quickly become improvised toys, requiring children use their imaginations. These objects could have been windup racers, or even science experiments on kinetic energy.
Videogames and violence
 Whether they be politicians, concerned parents, teachers, or psychologists, many have raised alarms about violent video games and how widespread their influence is on children.  Most claims assume that violent games foster violence in children and adolescents, and that, by rewarding violence, the games promote violence in real life. The problem with these claims is that multiple recent studies do not support a direct cause and effect relationship between violent games and violent behavior. Researchers have found teenage boys often play violent video games to relieve stress. New studies have also found that for there to be a correlation between violence in games and violent behavior in real life situation, such behavior needs to be accepted and reinforced by the player's peers.
Nintendo® Entertainment System "NES"
Nintendo
1983
Plastic, Metal, Silicone
On loan from Trevor and J.R. Morrison
The Nintendo Entertainment System was first introduced in the early 1980s and was distributed by Nintendo until 1995. This early 8-bit console was the first Nintendo product that could play different games loaded from cartridges. Early games that led to the console's success were Donkey Kong, Super Mario Bros., The Legend of Zelda, and Duck Hunt, which came with the gun-shaped Nintendo Zapper.  The NES was primarily marketed to children in the United States, prompting Nintendo to censor games based on language, violence, and sexual content for the American market.  The limited computing power of the NES console dictated a distinctive look and feel to the games that now trigger nostalgia and are still emulated in new games.
Nintendo® GAME BOY™ with TETRIS® Game
Nintendo
1989
Plastic, Metal, Silicone
On loan from Dave Cicimurri
The Nintendo Game Boy was introduced in 1989, becoming the first handheld console with changeable cartridges. Various iterations of the Game Boy were released, like the Game Boy Pocket, Game Boy Color, Game Boy Advance, and Game Boy Advance SP.
Star Wars
When does a movie or TV series become a commercial? In the 40 years since the first movie in the franchise premiered in 1977 through 2017, the combined Star Wars movies netted $7 billion, while the toys netted twice that much. With a narrative universe that spans over 60 hours of programming, an almost endless number of toys and figurines might be designed for fans to collect. Are new Star Wars movies made to sell toys, or are the toys made because people watched the movies?
How are games different from play? The main difference between play and games is that play is self-directed and normally does not have an element of competition. Games are a more developed type of play relying on the players' capacity to agree on rules, a time frame for the activities to take place within, and a manner of keeping score. These skills start developing around the age of seven when children begin seeing the need to follow rules. By the age of twelve, most children learn to codify and internalize rules.
Children can be introduced at an early age to physical games like Ring around the Rosies and Duck, Duck, Goose, fun rule-bound activities. As the children develop, they start to enjoy more complex games that help them with coordination, recall, fantasy, and strategy. Many of these benefits are still available to adults and seniors, making games an important part of everyone's life.
Mah-Jongg Set
Paraffine Companies Inc.
1923
Plastic, Cardboard, Paper
Gift of James B. Holderman
1991.03.05.10
In the early 1920s Mah-Jongg became a popular game in the United States, it was played at fashionable high society parties. In an age of increasing political isolationism this Chinese game became a cultural phenomenon that was appropriated by American mainstream culture and lent its name to movies, theatre shows, and even show horses. Mah-Jongg sets went from being expensive, imported artifacts to being a cheap popular object that quickly lost its prestige as a status symbol.
Mah-Jongg is a game that mixes luck and ability. The players draw and trade tiles to get Mah-Jongg which is four sets and a pair. The sets must consist of either three identical tiles or three consecutive tiles of the same suit. The pair must be two identical tiles.
Pokéball® and Pokémon® Cards
Nintendo
2019
Plastic, Paper, Ink
On loan from Trevor and J.R. Morrison
Pokémon is a video game franchise created by Game Freak and published by Nintendo. Originally released in 1996 for the Gameboy, Pokémon became a mainstay for Nintendo handheld console lines. Pokémon is the second highest-grossing franchise for Nintendo, following the Mario Series.
Throughout several iterations, the core gameplay is the same, and the stories all start the same. The character whom the player controls is that of a young Pokémon trainer who goes on adventures around a fictional region collecting creatures and using them to fight against other players/trainers. The goal in each game is to become the best trainer in the region.
Each game provides a different region and story while retaining the core themes of adventure, collecting, and personal growth. Pokémon has seen constant graphic improvements and continues to push the technical boundaries of the devices that run the game. The Pokémon games have earned a place in the hearts of millions of gamers globally, young and old.
Baseball
Maker unknown
1907
Cork, Twine, Leather
Gift of Dr. J. Heyward Gibbes
5.6
This baseball was kept as a souvenir from the April 9, 1907 game between the University of South Carolina and Clemson University. University of South Carolina won 4-2. This ball is a testament to the long-standing rivalry between the Gamecocks and the Tigers in all fields.  As recently as February 2020 the Post and Courier declared: "Clemson vs. USC baseball: 'The greatest rivalry in college baseball.'"
Postcard
Asheville Postcard Company
Paper, Ink
circa 1925
1995.02.00.02
The caption on the postcard reads: "Ani-Tsagi (Indian Ball) being played by native Cherokee Indians on reservation adjoining Great Smoky Mountains National Park.
Abbia Game Pieces
Besti
circa 1900
Seeds
Gift of Dr. Karl Lippert
16.172 – .215
These game pieces are carved out of seeds and used in a game of chance called Abbia. The game is common in the African region of south Cameroon. Players sit in a circle around a plate-shaped basket trading pieces during the game. Each game piece is carved to represent animals, plants, or male and female figures.
Acknowledgements
This exhibition was developed from an original proposal by Leslie Yarborough.
We are grateful for the advice and guidance with the research on pedagogy received from Dr. Elif Karsli Calamak. 
With objects from the permanent collection and kindly loaned by:
Giordano Angeletti
Christian Cicimurri
Dave Cicimurri
Morgan Cicimurri
Philip Manthe
Nate Price
Jane Przybysz
Trevor and J.R. Morrison
Shashi & Jayant Sathe
Linda Smith
Mark Smith